Media-less hyper fine micronizer "Masscomizer X"

Masscomizer X (called MMX) is a device that produces the ultra fine particles which performs emulsification, dispersion, and crushing. A small generator creates the world of the ultra fine particles which involve infinite possibilities. MMX can be applicable in various industries. Very few contamination, thanks to its media-less structure, makes MMX free from boring media control. By changing the processing pressure and the processing number of time, processing conditions are easily controlled.
The features of the media-less generator method
MMX has the media-less generator, and therefore, contamination is very few.
MMX disperse raw materials into sub-micron sized fine particles in a short time.
Generated energy is distributed equally, and rather uniform particle size is obtained.
MMX can be used for emulsification, dispersion, and crushing.
Processing condition is easily controlled by changing loading pressure and the number of pass time.
MMX enables line type continuous processing, and saves space.
A lot of energy cost saving.
Micronizing Principle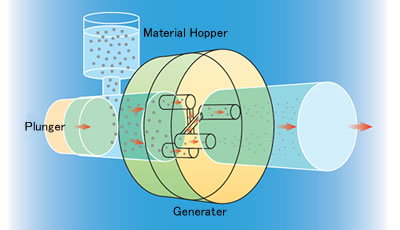 A fluid of raw material passes the generator by super high speed. Inside of the generator has the own unique structure which consists of stainless steel and diamond. A fine particle is obtained by shearing and colliding forces which generated in the fluid.
Applications
MMX can be used in various industries. For example, electronic materials,
ceramics, colors, cell destruction, pharmaceutical, a craze for exposure, paint,magnetism paint, cosmetics, food & beverage, oils, polymer, resin, rubber, synthetic rubber.