"Masscomizer X" Built-up type MMX-BP-200-05DX1
Built-up type production machine For industrial use MMX-BP-200-05DX1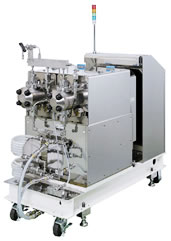 By combined operation, MMX-BP-200-05DX1 matches flexibly to various materials and various applications, and also to small production and huge production.
Independent operation of each combined unit is possible.
Independent or combined operation is possible at the operator's discretion.
Maintenance is possible with every single unit.
Even when a certain unit stops for the maintenance purpose, the other units can be operated for production.
The whole machine can be controlled by operating only the principal unit.
Data from the principal unit can be shared among all units.
Full-automatic pump unit.
Every plunger of all combined units can be controlled automatically, and simultaneously.
Specifications
| | |
| --- | --- |
| Rated processing pressure | 200Mpa |
| Max. processed volume (average) | 830ml/min |
| Plunger diameter | 20mm |
| Plunger stroke | Max 95mm |
| Driving method | Servomotor + ball screw |
| Motor | 11kw, 3P, 200V |
| Min. sample required quantity | 400 ml |
| Air supply | Not required |
| Max. in-put particle size | Max 50μm (less than 10μm is recommended) |
| External machine dimensions | W 600 x D 1600 x H 1195 |
| Machine weight | 500 kg |
| Cooling water | 5L~20L/min for heat exchange. 2L~5L for plunger cooling. |